PERIPHERAL NEUROPATHY AND PURPLE GLOVES
When the nerves of the peripheral nervous system (ie. nerves supplying the limbs) become damaged, either permanently or temporarily, various symptoms can arise, and this is known as peripheral neuropathy. When this happens the nerves become overactive or underactive, causing poor communication between the nerves and the brain.
SYMPTOMS
The peripheral nervous system is comprised of 3 parts and symptoms will vary according to where the damage is.
SENSORY NERVOUS SYSTEM – sends messages to the brain about the sensations in the skin and joints eg. heat, pain. These nerves are most commonly affected.

pins and needles in the hands or feet (arms and legs in more severe cases)

numbness or burning sensation in the hands or feet (arms and legs in more severe cases)

pain

increased sensitivity to touch

hyper/hypo sensitivity to very hot/cold temperatures

unexplained sensations eg.feeling like something is in your shoe

inability to recognise the exact position of your joints without looking at them

fine motor movements may be difficult

AUTONOMIC NERVOUS SYSTEM - communicates with the internal organs eg. blood pressure, heart rate, the urge to urinate

dizziness upon standing

constipation

abdominal bloating

urinary urgency

male impotence

MOTOR NERVOUS SYSTEM - transports messages from the brain to the muscles to make them move

muscle twitches/ cramps/pains/weakness

restless legs syndrome
CAUSES OF PERIPHERAL NEUROPATHY
SYMPTOM OF LYMPHOMA

Some lymphomas produce chemicals called paraproteins which adhere to the nerves, causing damage. Around 50% of cases of Waldenstroms macroglobulinaemia are affected by this type of neuropathy

lymphoma cells may compress the nerves or blood vessels supplying them
Symptoms of peripheral neuropathy may worsen once in remission and this is not indicative of the cancer returning.
SIDE EFFECT OF CHEMOTHERAPY/RADIOTHERAPY/LYMPHOMA TREATMENT

Drugs eg.vincristine, vinblastine , cisplatin, oxaliplatin, carboplatin, bortezomib, thalidomide, adcetris

Chemotherapy tends to cause sensory neuropathy, often tingling in hands and feet or hypersensitivity, usually after a few treatment cycles

SIDE EFFECT OF OTHER MEDICAL CONDITIONS EG. DIABETES, B12 DEFICIENCY

drinking alcohol in excess over a long period may cause nerve damage
TREATMENT
Nerve damage can't be reversed, so the earlier the issue is identified, the more preventive measures that can be taken. Symptoms may gradually fade once lymphoma treatment is finished, with improvements being noted over the course of weeks or months, but they may worsen following chemotherapy. Neuropathy which is a side effect of drug treatment may recover if the drug is reduced/stopped.
PREVENTION & COPING MECHANISMS
take vitamin supplements, particularly B12

reduce/avoid alcohol, particularly if undergoing lymphoma treatment

maintain healthy blood sugar levels if diabetic

maintain a high fibre diet to ease constipation In cases of autonomic neuropathy

consult GP regarding erectile dysfunction treatment

gentle massage, particularly to hands and feet

stretch fingers and toes daily

wear think socks and gloves when temperatures drop

use thermometer to check temperature of baths/showers

physiotherapy/occupational therapy referrals for motor neuropathy
PERIPHERAL NEUROPATHY & THE PURPLE GLOVES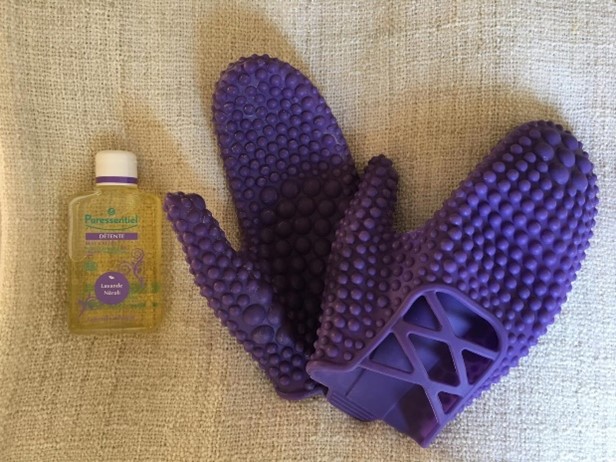 The purple gloves are a multidirectional massage tool, often used for sports massages, but also have a place in oncology massage or for those with neuropathy, to enhance soft tissue mobilisation.
Treatment with the mitts can be more comfortable and more effective than just the hands .
BENEFITS
increased stimulation of various receptors in the body

increased healing potential through blood and lymphatic stimulation which will promote pain-free range of movement

may reduce muscle fatigue by working more gently on tender joints and soft tissues, helping to reduce pain and muscle imbalances and improve flexibility

help to reset altered tension patterns in the body following trauma or repetitive movements and postural habits

can improve nutrient uptake by the muscles, stimulating the healing process

while the mitts can't break down scar tissue, they can bring about improved tissue tone due to effect on the fascia, nervous and lymphatic systems, and help prevent further adhesions, relieving localised pain due to scar tissue and the surrounding tight fascia. They may even help calm the nervous system enough to be able to work gently on hypersensitive radiotherapy scarring

increased sensory responses to a mechanical stimulus through oscillation of the nodules over the superficial fascia

can be used daily in the shower to help prevent chronic condition from developing
These mitts should only be used with non silicone based massage oils/lotions and should not be used in cases of neuritis or directly over tumours.
To purchase some of these mitts, go to www.sportsmitt.com