IMPORTANT QUESTIONS TO ASK YOUR MASSAGE THERAPIST PRIOR TO AN ONCOLOGY MASSAGE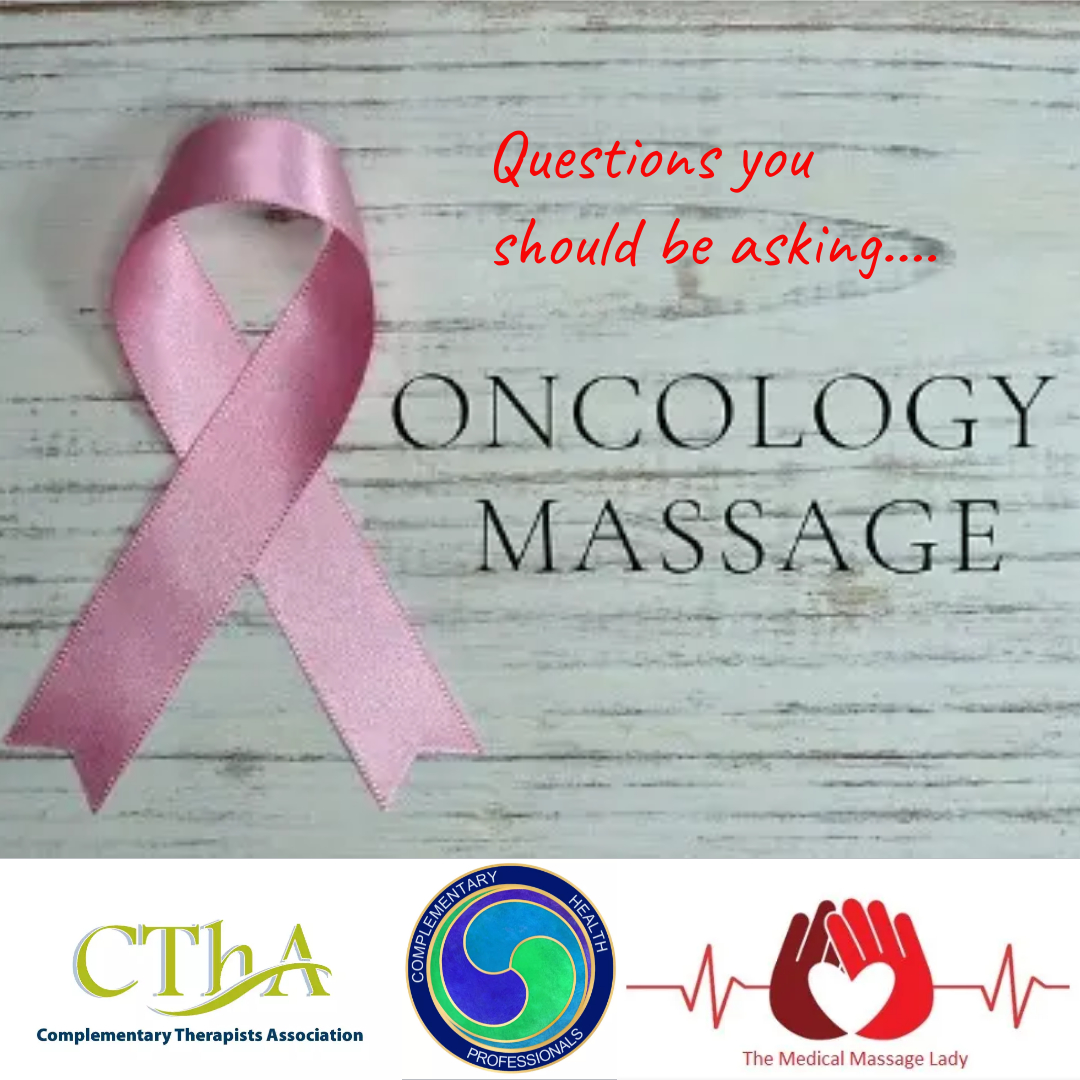 Appropriate oncology training and familiarity with cancer treatments is hugely important when seeking a massage therapist if you have cancer, because specific knowledge and experience are required to ensure a safe massage for each stage of cancer.
Asking the following questions can help you to understand what an oncology massage involves and identify an experienced therapist:-
1. WHAT IS ONCOLOGY MASSAGE?
Oncology massage is a client-specific massage designed to meet the changing needs of someone with a history of cancer or undergoing a treatment cycle, taking into account side effects of that treatment cycle. This can only be provided by someone who has undertaken training in the pathophysiology of cancer.
2. HAVE YOU RECEIVED TRAINING WITH REGARDS TO CONTRAINDICATIONS AND MODIFICATIONS OF MASSAGE IN THOSE WITH A HISTORY OF CANCER?
Anyone with a history of cancer should see a massage therapist who understands the safest and most effective methods for working with cancer patients. If a therapist has received appropriate training, which is accredited by an appropriate professional body, they will have no problem in showing the certificate as evidence.
An oncology qualified therapist will be able to ask the appropriate questions to adjust a massage and will often liaise with the medical team if needed.
3. WHAT EXPERIENCE DO YOU HAVE WORKING WITH CANCER PATIENTS?
Experience in dealing with cancer is always preferable, but you might also find a highly experienced therapist who only has 1 or 2 years oncology experience, so it may be better to find out what types of cancer clients they have worked with (ie. Have they worked with the type of cancer that you have) and what benefits were seen.
4. DO I NEED A DOCTOR'S PERMISSION TO PROCEED WITH MASSAGE?
While cancer patients don't legally require a doctors consent to have a massage session, it is recommended to consult with them when considering oncology massage. Doctors are becoming more accepting of complementary therapies and may even be able to point you towards an oncology trained therapist. However, it is important to remember that a doctor's permission is just that, and they may not be trained in the precautions involved in massage, hence finding an experienced therapist.
5. DOES MASSAGE SPREAD CANCER?
While directly massaging a tumour site should be avoided, there is no reason to avoid the rest of the body. It is a common myth that massage might spread the cancer, because tumour cells could detach and spread via the blood stream, but the pressure combined with the fact that massage is not done directly over a tumour, makes this argument void.
Also, the idea that improved circulation massage will promote metastasis of tumour cells via blood and lymph channels, is not valid because regular exercise and normal daily movement raise circulation more than an hour massage, and since physical activity is encouraged in cancer patients, there is no reason to discourage massage. Evidence based medical research corroborates multiple benefits of oncology massage.
6. WILL THERE BE AN INITIAL CONSULTATION TO DISCUSS MY MEDICAL HISTORY AND ASK ANY QUESTIONS?
A reputable and experienced oncology therapist will always take time to do this, because understanding your medical and cancer history, is what enables them to plan a safe and individualised oncology massage.
7. HOW WILL YOU SAFEGUARD AGAINST LYMPHOEDEMA FOLLOWING MY CHEMOTHERAPY/RADIOTHERAPY/SURGERY?
Lymphoedema can be serious so you must find a massage therapist who is experienced in managing the risks, so if they are unable to answer this, you should look elsewhere.
8. HOW WILL MY IMMUNO-COMPROMISED STATUS AFFECT THE THERAPY SESSION?
An experienced oncology therapist will understand the importance of the immune system and how it is affected by cancer, and will take the relevant precautions to ensure the health and safety of their client. In addition to handwashing and use of alcohol gel, this may also involve wearing gloves to do the massage, deep cleaning the room or possibly offering a shorter session.